Current Special Offer
50% Off Dry Cleaning of Shorts and Skirts.
To qualify for the 50% discount, a minimum of 2 garments should be dropped off at the same time. And that's any 2 garments – the skirt or shorts will be Half Price. And of course, drop off loads of shorts and / or skirts and they're all Half Price.
Check out standard prices here.
App Customers – Place your order by July 31st. The discount will be applied before you are charged. Minimum of 2 items in the order to qualify.
Check out our ongoing, everyday specials here.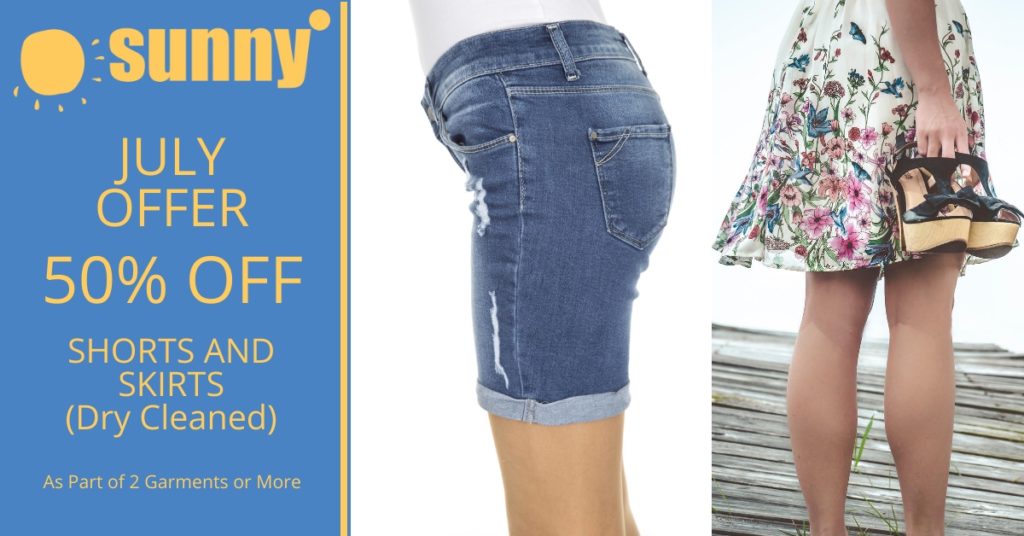 Stay up to Date on Our Regular Special Offers
The best way to stay in touch with our regular Special Offers is to subscribe to our 'Sunny Specials' list on WhatsApp. 
Just send the location of your store (Blessington, Kill, Kilcullen, Maynooth, Naas, Sallins) via WhatsApp to 089 443 7777.
But you'll also find them here on our website as well as on Facebook. Why not 'Like' our Facebook Page to be sure to see our offers on your Timeline.
Have they a 50% offer this month?
We frequently run 50% offers, for Duvets, Curtains, Overcoats or other big pocket items. Watch out for these as they represent spectacular value.
Subscriber now to our 'Sunny Specials' on WhatsApp.